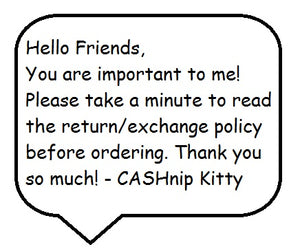 TERMS OF SERVICE and REFUND POLICY
Dear CASHnip Kitty Friends,
To keep expenses down and to eliminate waste, all products are custom made after you place your order. Printing is not applied to our "blank" products until an order is placed. Therefore, please allow additional time for custom printing and processing.
Although most orders are printed and shipped out within two business days, the custom printing process could add 7 to 10 days to your estimated shipment time.
Because our products are custom made through a fulfillment center, they are not returnable and they cannot be re-shelved. Please note, all purchases are final and no refunds or exchanges will be made.
We only exchange goods if they are defective or damaged. In circumstances where you consider a product to be defective or damaged, you should promptly email CASHnipKitty@gurustu.co with details of the product and what is wrong with it. Please include your order number in your email.
You are responsible for the shipping charges to exchange an item. If we instruct you to return an item for an exchange, we will issue a RMA number. Please include your RMA number with your return. Without the RMA number, we cannot process the exchange.
Only return an item to us if you have an RMA number and only if we have instructed you to do so.
Mail items for exchange (with your RMA number) to:
CASHnipKitty
628 E. 3rd Street
Tulsa, OK  74120
If you have questions or comments about your order, please send an email to: 
CASHnipKitty@gurustu.co or feel free to send him a private message on Facebook.
Thank you so much for your order! And thank you for helping CASHnip Kitty with his cause.